FOR SALE at H&H Power Equipment


​

$175.00


​POWER PRO PORTABLE GENERATOR
4050 MAX WATTS
FOUR 120 VOLT OUTLETS
ONE 240 VOLT OUTLET
WAS JUST TUNED UP
$275.00



​​THIS IS A NICE GENERATOR FROM COLEMAN ITS THE POWERMATE 5000
IT HAS THE 9 HP TECUMSEH ENGINE
5000 MAX WATTS
FOUR 120 VOLT OUTLETS
ONE 240 VOLT OUTLET
TUNED UP READY TO GO TO WORK
TORO WHEEL HORSE LAWN TRACTOR KOHLER CAST IRON SINGLE MOTOR. THIS COMES WITH A WORKING CUTTING DECK THE 3 SPEED TRANNY IS IN GOOD WORKING ORDER , THIS UNIT RUNS DRIVES AND WORKS BUT IT NEEDS TO BE GONE THROUGH NICE UNIT TO RESTORE PLEASE CALL WITH ANY QUESTIONS 1-262-SIX SIX TWO -1990 $500.00 OBO
WHEEL HORSE LAWN TRACTOR PARTS UNIT
FOR REPAIR OR PARTS​​ 10 HORSE CAST IRON KOHLER MOTOR WITH PLOW NO DECK
​

$300.00 OBO​​​
SIMPLICITY CONQUEST LAWN TRACTOR 20 HP V TWIN VANGUARD BRIGGS MOTOR THIS IS A REPLACMENT ENGINE THIS HAD A 18 HP V TWIN. THIS COMES WITH A 44 ''CUT DECK THE TRANNY IS A HYDRO AND IS IN GOOD WORKING ORDER , WE TUNED THIS UP NEW OIL AND PLUGS READY TO GO TO WORK CALL WITH ANY QUESTIONS 1-262-SIX SIX TWO -1990 $1150.00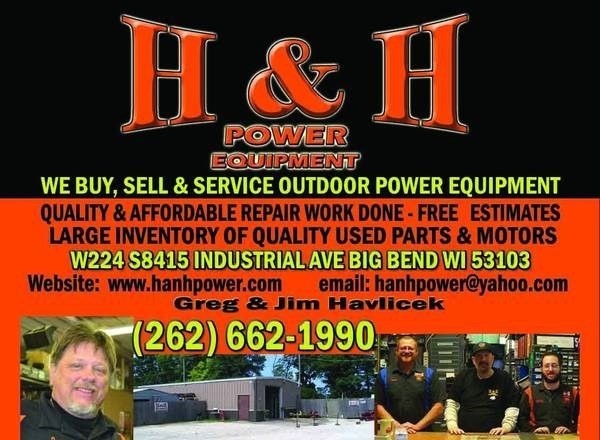 horse power Honda engine 28 cut two stage blower electric start super clean unit

Excellent cosmetic and mechanical,condition. Stored indoors. Used on sidewalks and pathways of private estate. Never used commercially.

Tracks show almost no wear.

Engine starts and runs beautifully. Has electric start but always starts on first pull.

Hydrostatic trans operates smoothly and precisely.

Honda snow blowers are the absolute best. If your the type that appreciates fine equipment but can't justify 3 g for a new HONDA this should be on your list to,see...


WE TUNED THIS UP NEW OIL AND PLUGS READY TO GO TO WORK CALL WITH ANY QUESTIONS 1-262-SIX SIX TWO -1990 $1275.00 .